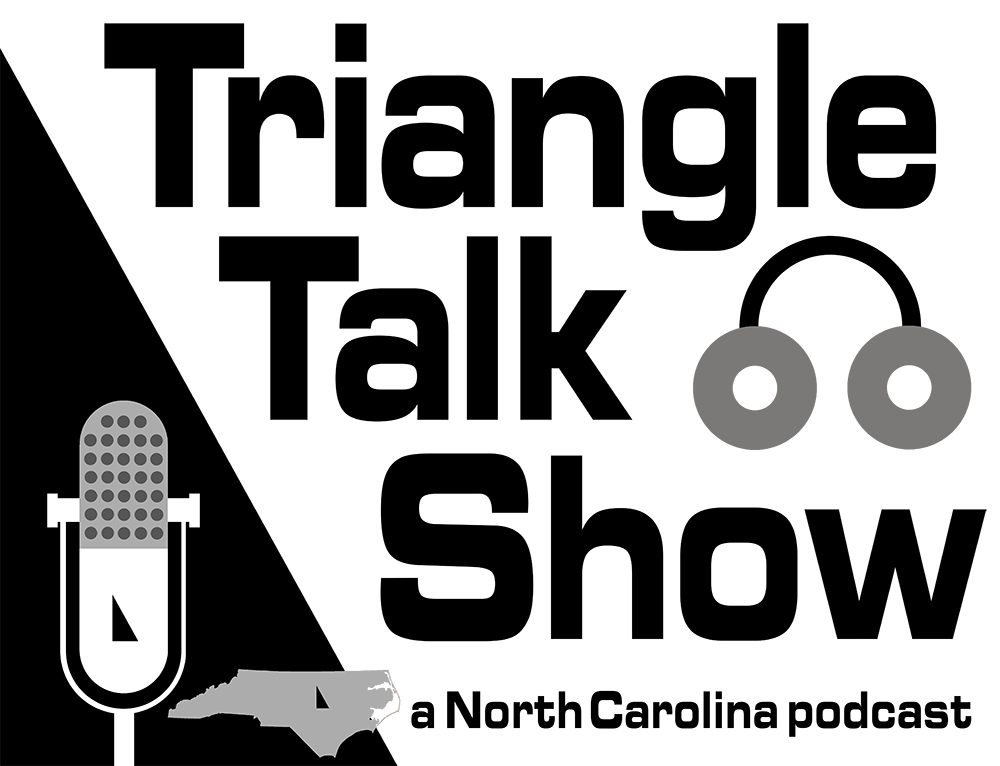 a podcast for the Triangle area of North Carolina

Raleigh • Durham
Chapel Hill • Cary
Garner • Morrisville
Wake Forest • Knightdale
Holly Springs • Fuquay-Varina
Zebulon • Wendell
Pittsboro • Hillsborough
Lizard Lick
(did we miss your little burg? Comment on an episode, give us the name, and we'll add it. At least for a while)
Take the Audience Survey and let us know who you are (anonymized for your safety)
The Triangle
Talk Show
A "North Carolina Podcast"?
The Triangle Talk Show is a 'general interest' and often liberal/progressive politics podcast for the Triangle area of North Carolina. Sometimes the area is called the Research Triangle. The Triangle is traditionally identified as Raleigh, Durham and Chapel Hill*, but that was too much to put on a logo or business card. And because few people outside the state know what "The Triangle" is, we figured a North Carolina Podcast would at least get us close.
The show launched in April, 2018, born of the fevered dream of our primary host, Gary Pearce (see the about section for Gary's background). Like most people on the left side of the politics line, Gary was concerned following the election of Donald Trump in 2016, and encouraged by the Women's Marches in Washington and around the country the day after inauguration day. Gary's skills included broadcast/podcast production, and he figured that maybe he could make a contribution to keeping the momentum going by creating a show. Some show…
A nationwide show seemed daunting and unrealistic. How about something closer to home (Gary's closing in on 30 years living in the Triangle)? He looked around and discovered that, while there are many podcasts for and about the Triangle area, most were niche-interest shows (as we're told all good podcasts should be). So he decided to defy the conventional wisdom and create a show where he and guests could talk about anything, but with a frequent emphasis on local, state and national politics. And it's kinda working out that way.
The show 'airs' about once a week as an audio podcast, and is usually recorded as a live YouTube show. You'll find it on most podcast apps by looking for Triangle Talk Show. Our YouTube channel is here. So far, there is no set schedule, so catching a live show is random. You'll also find that it's a very DIY production… from the Studio in the Bonus Room Above the Garage on the North Side of Cary (at the foot of Mt. Belzoni).
We'll link to the current show at the top of this home page. All the previous shows we've produced so far are under the INDEX tab and under the SHOWS tab.
*There are many more towns within the vague geographical boundary of 'The Triangle'. Cary, Garner, Knightdale, Wake Forest, Morrisville, Carrboro, Rolesville, Holly Springs, Clayton, Fuquay-Varina, Wendell, Zebulon, Hillsborough, Lizard Lick… and we're not picky. You can listen from anywhere. Fayetteville, Burlington, Wilson, Greenville… Montana.